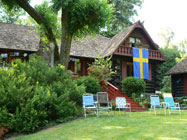 Cultural Events and Activities
Throughout the year we provide our members with many cultural events and activities.
2022 Upcoming Events
Daniel Greco ~ Melodies from Sweden and the U.S. ~ sponsored by New Sweden Cultural Heritage Society
An enchanting early evening concert of Swedish and American music will be given by a Swedish vocal artist, Daniel Greco at the Unitarian Sanctuary on Oleson road.
Baritone Daniel Greco is a Minneapolis based singer, actor, voice teacher, music director, worship leader, and songwriter. He comes from a talented musical family. His mother, Joy Greco was a music instructor at a local Portland college and even orchestrated New Sweden's Lucia Program for a number of years. Daniel has an extensive repertoire of Swedish and American tunes, although the concert will be sung mostly in Swedish.
The concert recital will be held at the West Hills Unitarian Fellowship Church in the Sanctuary at 8470 SW Oleson Road, Portland on Saturday March 12th, at 5 p.m.
Come and enjoy Daniel and his father on the piano and their extensive song collection, covering many forms of music: classical, jazz, folk, and popular tunes.
Tickets are $15 for general admission and are available through the link below.
Purchase Tickets to Daniel Greco Concert 5pm
Covid restrictions in effect at the time of the concert will be observed.
Click here to listen to Daniel Greco sing
---
Previous Events
Christmas Pig Market at the Norse Hall in Portland on Saturday, December 11th from 11am-5pm in the Norse Hall's Grand Ballroom and adjoining Oslo lounge
Event details:
Norse Hall is located at 111 N.E. 11th Avenue (at N.E. Couch Street), Portland, OR Norse Hall
The event space is in the Grand Ballroom and the adjoining bar "The Oslo Lounge" (bar space with café tables)
Event date and time: Saturday, December 11th, 2021 from 11am-5pm
Vendors will be a mix of local small businesses, artists, food & drink purveyors, and Nordic non-profit organizations.
The Grand Ballroom will be festively decorated, and music streaming throughout the event space.
Per State guidelines we will require and enforce masks inside the ballroom and reception area as well as ask that all guests keep a safe distance from each other while inside.
Crowd size (room capacity) will be monitored and enforced with clearly marked directional entrance and exits.
The bar is manned by licensed bartenders and the bar space may have 1 food vendor (other food vendors will be selling their goods at booths inside the ballroom)
All food or drinks sold may not be consumed inside the Grand Ballroom but can be taken into the Oslo Lounge for consumption.
Attendees can unmask in the Oslo Lounge only while sitting at the tables and drinking or eating
Free to New Sweden members
Here is a list of some of our vendors and food purveyors to look forward to
Fern + Fjord / Saga Saum / Minnow Manor / Our Norwegian Family / Elderberry Textiles / New Sweden / Skidbladnir / Simply Scandic
Paint a Gingerbread House - Nov 13th, West Hills Unitarian Universalist Fellowship
New Sweden invites you to "paint" a gingerbread house! Get a jump-start on the holiday season by using paint pens to decorate a metal gingerbread style house which will bring delight for years to come. Open the door and add a candle to bring in light on those cold winter nights.
Crafter enthusiast/instructor Rayna Flye will demonstrate the decorating process and provide a template but encourages you to add your own flair to the project, so bring your creativity, power of imagination, and enthusiasm and let's get crafting!
Provided supplies:
Metal house, pre-painted the color of gingerbread
White paint pens in medium and fine point
Clear coating to preserve the paint
Design template
Drying stations
What you need to Bring:
Pencil
Flat edge for painting straight lines
Location/Address:
West Hills Unitarian Universalist Fellowship
8470 SW Oleson Rd, Portland, OR 97223
Date/Time:
November 13th, 2021 Time: noon until 2:30
Price:
$30 for New Sweden members / $35 for non New Sweden members
Please come vaccinated, masked, and ready to craft
KUBB at the Coast! this Saturday, August 14, Cannon Beach
We are meeting up with folks from PDX Kubb, Finlandia and maybe some nordic folks from Astoria to try kubb at the beach. No experience necessary-beginners welcome! Here's a chance to give kubb a try while enjoying our beautiful Oregon coast. Bring a picnic and a beach chair to sit and watch the fun-we'll have a BBQ going from 1:00-3:00pm for those who want to grill.
Parking recommended in the Tolovana Recreational Park on the south end of town close to Mo's. The lot may start to fill up by 11:00am. No charge to participate.
Any questions reach out to Kristi Gustafson, 503-807-9808
Orienteering Event - August 28th from 11-1pm - Estacada
New Sweden is organizing a get together on Saturday August 28th between 11 am -1pm to try out this Euro type sport of orienteering here in the lovely Pacific Northwest put on by the Columbia River Orienteering Club (CROC*) at Milo McIver State Park near Estacada OR.
Sign up will be on the CROC website but as we gather people, we can start to put together the teams of 2-4 people. If you already have a group/team that you want to go with that's good too! We can all meet up after the event for a drink and a bit of lunch at Fearless Brewing Company (a Viking theme pub - SKål!) and talk about the event.
If you are interested in taking part in the fun, please reach out to Kristi Gustafson at 1-503-807-9808 and she will get the teams organized.
o•ri•en•teer•ing
/ôrêən'tiriNG/
noun
a competitive sport in which participants find their way to various checkpoints across an unfamiliar course with the aid of a map and a compass, the winners being the ones with the lowest elapsed time.
REGISTRATION AND OTHER COSTS
Advance online registration is required. There is no event day registration.
Park Fee: Oregon State Parks charges $5 for day use, $30 for a 12-month pass, and $50 for a 24-month pass. The day pass fee may be paid at the entrance station before you enter the park.
Event Cost
$17 base price - individuals
$22 base price - groups of 2 or more
- Subtract $5 for membership in CROC or other O-club
- Subtract $5 if you have your own e-stick
Online registration link will be available soon at http://www.croc.org/events/2021/8/28/milo-mciver-state-park
Don't be afraid if you haven't done orienteering before CROC teaches free beginner clinics at the meets (about 10 minutes) so you can learn everything you need before you head out on the adventure.
The history of orienteering begins in the late 19th century in Sweden, the actual term "orientering" (the original Swedish name for orienteering, lit. "orientation") was first used in 1886 at the Swedish Military Academy Karlberg and meant the crossing of unknown land with the aid of a map and a compass. In Sweden, orienteering grew from military training in land navigation into a competitive sport for military officers, then for civilians.
The name is derived from a word root meaning to find the direction or location.
*The Columbia River Orienteering Club (CROC), founded in 1990, is a Portland, Oregon based club dedicated to enjoying and promoting the international sport of orienteering
To find out more about Orienteering (the thinking sport)
Portland Midsummer Registration
The League of Swedish Societies* will hold its 94th annual Portland Midsummer Festival at Foothills Park amphitheater next to the Willamette river in Lake Oswego, Oregon on Saturday, June 19th, 2021 from 1 pm until 4 pm.
The midsummer festival will be conducted with a pandemic-conscious mindset and comply with the regulations set by Lake Oswego Parks Department according to the State of Oregon. The League will be responsible for enforcing the restrictions set by the Parks Department. There will be a roped off area set up around the amphitheater and you will need to register to enter the area.
In this beautiful park next to the Willamette there will be music, raising of the majstång 'Midsummer pole', a kubb tournament and kubb demonstration games. Attendees are welcome to bring their own food to celebrate the day and enjoy the traditions. Bring a picnic basket and blanket and enjoy the music and festivities. Water and soft drinks will be available for purchase / food will not be sold at this year's event. Attendance is free, and donations are accepted to balance the costs to rent the amphitheater.
Registration is required for All of the 6 local Scandinavian organizations
Portland Midsummer Registration Link
When: Saturday, June 19, 2021
Time: 1:00 pm - 4:00 pm
Where: Foothills Park in Lake Oswego, Oregon
Cost: Free, although donations are accepted
Attendees: Limited to 150 mask wearing individuals inside the roped off area (subject to change as restrictions are evaluated by Oregon)
Raising the majstång / Midsummer pole at 2 pm
Kubb tournament from 11am until 4pm
Music - 1 pm
Food: Bring your own picnic basket
Drinks: Water and soft drinks sold
Volunteers needed**
*A consortium of six local organizations (Swedish Society Linnea; Nobel Lodge No. 184, VOA; Skandia No. 68, Independent Order of Vikings; Harmoni Lodge No. 472, VOA; Portland Nordic Chorus [formerly Portland Scandinavian Chorus]; and New Sweden Cultural Heritage Society)
** We need members who will volunteer an hour or two to help produce the event. Although the League will not sell food, help is needed with set-up and clean-up, managing the number of entrants to the amphitheater, and selling soda and water.
KUBB TOURNAMENT League of Swedish Societies 2021 Midsummer
June 19th, 2021 11:00am Foothills Park, Lake Oswego
There will be a limit of eight two person teams. Competition will be played in round robin brackets with four games occurring simultaneously. Games will be limited to 30 minutes. With minor exceptions, National Kubb tournament rules will be followed to include keeping the downed kubbs in play.
Trophies awarded for 1st and 2nd place and commemorative medals for all tournament competitors.
Entry fee is $20 per team.
Register by calling: 503-807-9808
Scandinavian Stories on Sunday presents Basket maker - John Peterson - May 16th 6:30 pm
Born in 1895 near Våmhus in the Mora Municipality of Dalarna County, Sweden, Erik John Peterson learned early in life the skilled craft of weaving baskets from wood. This style of basket making is unique to the Våmhus area and still taught in the community today. After coming to the United States in 1914 and Americanizing his name to John Peterson, he settled in St. Helens, Oregon where he found work in the timber industry and ultimately resumed his craft of basket making.
Brandon Sundeen, a teacher and member of the Columbia County Museum Association, learned about John's story while working in the museum where several of his baskets are on display. He researched John's life and interviewed people who had watched John make baskets, and some that still collect these prized pieces today. Brandon also tracked down John's relatives in Sweden who were able to provide additional photos and information.
Register for this zoom event here
new-sweden.ticketleap.com/new-sweden-scandinavian-stories-on-sunday---basket
New Sweden - Dala Horse Painting Class
Ready to create something? The first day of the painting class will consist of learning the techniques of Kurbits style painting, practicing swirls, scrollwork, lining and geometric elements, stylized flower ornamentation, and also transferring the design onto the horse.
We will be maintaining 6 feet safe social distancing and everyone will need wear face masks
Register here for the painting class
New Sweden - Dala Horse Painting Class (ticketspice.com)
From a wooden horse primed and base painted in orange to a finished painted Dala horse. Learn from experienced painter/instructor Nancy Tingley in two six-hour daytime classes. Monday May 25th and Tuesday May 26th from 9:30-3:00
New Sweden members $60; nonmembers $65. Class is limited to 8, due to social distancing. No prior experience necessary.
Class will take place at West Hills Unitarian Universalist Fellowship 8470 SW Oleson Road, Portland, OR 972233
May 24-25, 2021 | 9:30-3:00 | Tigard, OR
The materials you will need for this class are brushes and acrylic paint. (instructor will supply material list after you have signed up)
About the instructor
Nancy works with watercolors, acrylics or oils on wood, metal, canvas, paper or walls. Watercolors have a special ongoing interest for her because of the versatility of the medium. It is exciting to be spontaneous and very detailed in the same piece of work. Because of her lifelong interest in hiking and camping she is naturally drawn to the native plants and berries of the Northwest.
You may have already seen some of Nancy's Scandinavian welcome signs and pins at midsummer and scan fair.
Shooting Star Design - Nancy Tingley - Watercolorist
Questions about the class please contact Corina at: corina27@gmail.com
Postponed/Cancelled Events
POSTPONED
March 22, 2020 New Sweden's Annual Membership Appreciation Meeting 3:00pm, West Hills United Universalist Fellowship, 8470 SW Oleson Rd., Portland.
Serving a delicious light meal, free to members, please RSVP to Kristi: 503-807-9808, or kristigus@aol.com.
Questions about the class please contact Corina at corina27@gmail.com
December
Scan Fair - December 7th & 8th
Memorial Coliseum, Portland, a wonderful Nordic holiday event filled with entertainment, traditional Nordic foods, vendors and holiday cheer. The Oregon Lucia is crowned and the Scandinavian of the Year awarded. New Sweden will have our display/vendor booth, and we'll participate with the League of Swedish Societies food booth selling Swedish rice pudding and cookies.
Dec. 7th, 10:00am-5:00pm
Dec. 8th, 10:00am-4:00pm
For more info visit www.nordicnorthwest.org
Virtual Needle Felting Workshop - December 11 - 6:30-8:30pm
Get into the Christmas spirit needle felting a Swedish Tomten in the safety of your own home. Supplies will be provided in a kit you'll pick up beforehand in Lake Oswego. Learn basic needle felting skills so you can develop your own projects later. Many children become excellent needle felters. See flier for additional information.
Virtual Felt & Fika Holiday Workshop
New Sweden's Lucia Fest - December 14 (Holiday Event) - 3:00pm
On December 14, the strains of "Santa Lucia" are heard everywhere in Sweden as the white-robed maiden comes out of the night with her crown of lighted candles dispelling the darkness and bringing bright light to the Christmas season. Our holiday pageant follows the traditions of a Swedish Lucia celebration. The 2019 Oregon Lucia Court participates along with the children of the Swedish School in Portland. Music of the season provided by the Scandinavian Men's and Women's Chorus and vocal soloists. After the program, there is customary singing and dancing around the Christmas tree, and a visit by Tomten, glögg, coffee and beloved baked goods provided by New Sweden, SVEA and the Swedish Women's coffee group.
Location: First Presbyterian Church, 1200 SW Alder, Portland, OR., 97205.
Time: 3:00pm
Admissions: Adults $10, children 4-12 $5, family $25
HOLIDAY MEET and GREET - December 17th, 2019
Ross Fogelquist extends a cordial invitation to New Sweden members, their families and guests to come see historic Fogelbo in its Christmas splendor. Enjoy a cup of coffee or a glass of punch, Christmas cookies, and visit with old and new friends. (For our newer members, Fogelbo is Ross's family home- a historic Steiner home filled with traditional Scandinavian and German furnishings.)
The event is Tuesday, December 17th from 3:00-7:30pm. Donations appreciated.
This is a New Sweden event only.
JULGRANSPLUNDRING - January 12, 2020
New Sweden is hosting a traditional end of the holiday season celebration called Julgransplundring. Come enjoy fun, games and dancing around the Christmas tree one last time before we "throw the tree out." Everyone, young and old, is welcome.
It will be held on Sunday, January 12 from 3:30-5 p.m. at the West Hills Universalist Unitarian Fellowship, 8470 S.W. Oleson Road, Portland.
Some activities to look forward to are fisk damm spel (fish pond game), bingo, and reindeer toss. Get your picture taken with a "moose."
This event is free for New Sweden members. For non-members, the cost is $10 per family or $5 for single admission, payable at the door by credit card or cash. Sign up to become a New Sweden member at Julgransplundring and receive free entry! Refreshments will be served. RSVP is required to give us an idea how many are coming. Email NewSwedenPDX@gmail.com, call or text Corina at 818-825-3822.