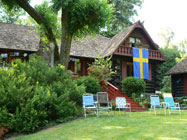 Cultural Events and Activities
Throughout the year we provide our members with many cultural events and activities.
Upcoming New Sweden Activities at a Glance- Mark your calendars!
Kubb players meet informally at Nordia House, 8800 SW Oleson Rd., the 1st & 3rd Sunday mornings
New Sweden's Christmas Goat Market at Norse Hall on November 26th from 11am-5pm
Lucia Fest at Moreland Presbyterian Church on Saturday December 3rd at 3 pm
Celebrate the traditional Lucia Fest With the New Sweden Cultural Heritage Society 3:00pm Saturday, Dec 3, 2022
Scandinavian tradition holds that in Värmland, Sweden, a white clad maiden wearing a crown of burning candles and a red sash brought food to starving villagers on the shores of Lake Vänern. On the morning of December 13, the strains of "Santa Lucia" are heard everywhere in Sweden as the white-robed maiden comes out of the night with her crown of lighted candles to dispel the darkness, bringing light to the Christmas season. While it was originally a Swedish tradition, it has since spread to the other Scandinavian countries.
You are invited to enjoy a beautiful traditional pageant and music of the season by:
The children of the Swedish School of Portland
Oregon's 2022 Lucia Court
Portland Scandinavian Chorus
Vocal Soloist
Following the program there will be the customary singing and dancing around the Christmas tree, a visit by Tomten, glögg, coffee and traditional baked goods..
Because of the church size this year we will have a limited amount of tickets available. To ensure you get a chance to attend this once a year spectacular event make sure to purchase your tickets early.
Adult ticket price: 15 dollars
Children (4-12yrs) ticket price: 5 dollars
Lucia Fest - Adult Ticket 15 dollars
Lucia Fest - Childrens Ticket 5 dollars
The Scandinavian Christmas Goat Market
Saturday, November 26, 2022
11:00 AM - 5:00 PM
New Sweden is proud to host the 1st Annual Scandinavian Christmas Goat Market, on Saturday, November 26, at the historic Norse Hall in Portland, Oregon. This event will include 20+ vendors selling an array of Nordic related goods in a lovely high ceiling ballroom decorated with flags from all of the Nordic countries. In the basement, we'll have five Nordic food and baked good vendors, so participants can purchase all of their favorite foods and treats. Guest will continue to get into the holiday spirit (julstämning) as they wander through the kids area making free Dala and Jul goat crafts or when they stop to listen to live music. Come celebrate a Scandinavian Christmas with us!
Norse Hall, Portland, OR
111 NE 11th Ave
Portland, OR 97232
Adults $5.00
Youth (12 & under) $3.00
New Sweden Members - 50% off
Tickets sold at the door!
This event is proudly presented by New Sweden Cultural Heritage Society and will feature many other local Scandinavian organizations serving food and cheer. All are welcome!
---