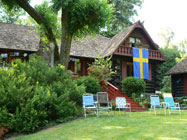 Cultural Events and Activities
Throughout the year we provide our members with many cultural events and activities.
2019 Upcoming Events
December
Scan Fair - December 7th & 8th
Memorial Coliseum, Portland, a wonderful Nordic holiday event filled with entertainment, traditional Nordic foods, vendors and holiday cheer. The Oregon Lucia is crowned and the Scandinavian of the Year awarded. New Sweden will have our display/vendor booth, and we'll participate with the League of Swedish Societies food booth selling Swedish rice pudding and cookies.
Dec. 7th, 10:00am-5:00pm
Dec. 8th, 10:00am-4:00pm
For more info visit www.nordicnorthwest.org
New Sweden's Lucia Fest - December 14 (Holiday Event) - 3:00pm
On December 14, the strains of "Santa Lucia" are heard everywhere in Sweden as the white-robed maiden comes out of the night with her crown of lighted candles dispelling the darkness and bringing bright light to the Christmas season. Our holiday pageant follows the traditions of a Swedish Lucia celebration. The 2019 Oregon Lucia Court participates along with the children of the Swedish School in Portland. Music of the season provided by the Scandinavian Men's and Women's Chorus and vocal soloists. After the program, there is customary singing and dancing around the Christmas tree, and a visit by Tomten, glögg, coffee and beloved baked goods provided by New Sweden, SVEA and the Swedish Women's coffee group.
Location: First Presbyterian Church, 1200 SW Alder, Portland, OR., 97205.
Time: 3:00pm
Admissions: Adults $10, children 4-12 $5, family $25
HOLIDAY MEET and GREET - December 17th, 2019
Ross Fogelquist extends a cordial invitation to New Sweden members, their families and guests to come see historic Fogelbo in its Christmas splendor. Enjoy a cup of coffee or a glass of punch, Christmas cookies, and visit with old and new friends. (For our newer members, Fogelbo is Ross's family home- a historic Steiner home filled with traditional Scandinavian and German furnishings.)
The event is Tuesday, December 17th from 3:00-7:30pm. Donations appreciated.
This is a New Sweden event only.
JULGRANSPLUNDRING - January 12, 2020
New Sweden is hosting a traditional end of the holiday season celebration called Julgransplundring. Come enjoy fun, games and dancing around the Christmas tree one last time before we "throw the tree out." Everyone, young and old, is welcome.
It will be held on Sunday, January 12 from 3:30-5 p.m. at the West Hills Universalist Unitarian Fellowship, 8470 S.W. Oleson Road, Portland.
Some activities to look forward to are fisk damm spel (fish pond game), bingo, and reindeer toss. Get your picture taken with a "moose."
This event is free for New Sweden members. For non-members, the cost is $10 per family or $5 for single admission, payable at the door by credit card or cash. Sign up to become a New Sweden member at Julgransplundring and receive free entry! Refreshments will be served. RSVP is required to give us an idea how many are coming. Email NewSwedenPDX@gmail.com, call or text Corina at 818-825-3822.