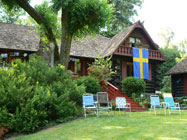 Cultural Events and Activities
Throughout the year we provide our members with many cultural events and activities.
Upcoming Events
CANCELLED - New Sweden Annual Board Meeting has been cancelled due to construction at Anna and Hans Clubhouse.
Please stay tuned for the new date and time.
Daniel Greco ~ Melodies from Sweden and the U.S. ~ sponsored by New Sweden Cultural Heritage Society
An enchanting early evening concert of Swedish and American music will be given by a Swedish vocal artist, Daniel Greco at the Unitarian Sanctuary on Oleson road.
Baritone Daniel Greco is a Minneapolis based singer, actor, voice teacher, music director, worship leader, and songwriter. He comes from a talented musical family. His mother, Joy Greco was a music instructor at a local Portland college and even orchestrated New Sweden's Lucia Program for a number of years. Daniel has an extensive repertoire of Swedish and American tunes, although the concert will be sung mostly in Swedish.
The concert recital will be held at the West Hills Unitarian Fellowship Church in the Sanctuary at 8470 SW Oleson Road, Portland on Saturday March 12th, at 5 p.m.
Come and enjoy Daniel and his father on the piano and their extensive song collection, covering many forms of music: classical, jazz, folk, and popular tunes.
Tickets are $15 for general admission and are available through the link below.
Purchase Tickets to Daniel Greco Concert 5pm
Covid restrictions in effect at the time of the concert will be observed.
Click here to listen to Daniel Greco sing
KUBB A QUE April 10th, 2022
IT'S TIME TO GET BACK TOGETHER! The New Sweden Kubb group invites all New Sweden members to a KUBB A QUE! Finally, New Sweden members can once again meet, visit and welcome our new members. Additionally, there will be the opportunity to learn the game of kubb and drawings for prizes for those who give it a try. If playing isn't your thing, we're always in need of team support.
We've rented the covered area on the south end of Willamette Park, below John's Landing, and will serve grilled burgers, chips and punch, or bring your own drinks.
Please register on our website so we have a head count and because Portland park rules do not allow us to take on-site admission.
When: April 10th, 2022 1:00pm to 5:00pm, burgers served from 2:00-3:30
Where: Willamette Park, 6500 S. Macadam Ave., Portland
Cost: $10 a person, children 10 to 18 yrs $5, children under 10 yrs free, $15 for Non New Sweden members.
Register on the New Sweden website, www.newsweden.org
For more info contact Lindsay Drace, kubbielindsay@gmail.com, or Kristi at 503-807-9808
KUBB A QUE / 19 years and older ticket
$10.00
Buy now
KUBB A QUE / 10- 18 years ticket
$5.00
Buy now
KUBB A QUE - Non New Sweden Member
$15.00
Buy now
Astoria's Nordic Heritage Park and the Astoria Midsummer Fest - Friday, June 17, 2022
The League of Swedish Societies has organized a day trip to Astoria on Friday June 17th, 2022, for the members of the Swedish League organizations to attend the dedication of the Astoria's Nordic Heritage Park and the Astoria Midsummer Fest at Clatsop Park.
Date: Friday, June 17, 2022
Cost per person: $50.00.
Round trip bus transportation is on Blue Star Bus Co.
Bus departs from Portland at 7am from Eastport Plaza
Returning back from Astoria at 7pm to the Eastport Plaza.
The bus seats 43 people.
There is an additional $10.00 per person admission for the Midsummer Fest collected at the Fest
The dedication ceremony begins at 10:00am at the Heritage Park.
Midsummer booths are open from 2-6:30.
Reservations are to be made to Wayne Barker w.barker@comcast.net
If paying by check please send your bus trip payment with each participant's name, email address, and contact number to:
Treasurer - League of Swedish Societies
P O Box 3401 Portland, OR 97208
If you prefer Venmo, send your payment along with your contact info to the League's Venmo account: League of Swedish Societies.
Click here to find out more about Astorias Scandinavian Festival
If you have any questions regarding this bus trip, please contact Wayne Barker of Scandia Order of the Vikings at w.barker@comcast.net
New Sweden received a commemorative flagstone with our 500 dollars donation in support of the Astoria's Nordic Heritage Park construction building fund
---