Over the years New Sweden has collected recipes of traditional Swedish small dishes called "smörgåsbord" representing the strong domestic eating tradition. A traditional Swedish smörgåsbord consists of both hot and cold dishes. Bread, butter, and cheese are always part of the smörgåsbord. It is customary to begin with cold fish dishes, which are generally various forms of herring, salmon, and eel. After eating the first portion, people usually continue with the second course (other cold dishes), and round off with hot dishes. Dessert may or may not be included in a smörgåsbord
---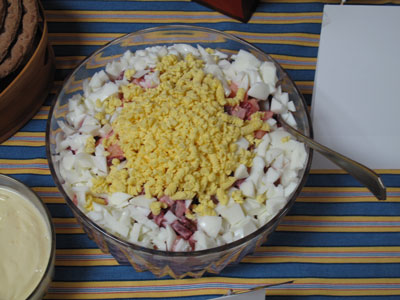 Herring Salad (Sill Sallad)
Herring Salad is a must on the Christmas Smörgåsbord. It includes pickled beets and cold boiled potatoes among other things.
---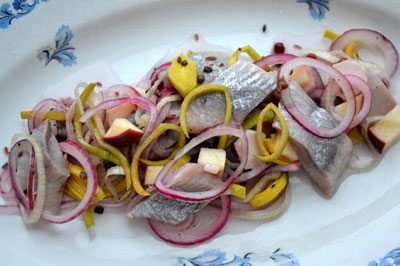 Pickled Herring (Inlagd Sill)
There are many variations of Pickled Herring. The recipe presented here represents the classic traditional version.
---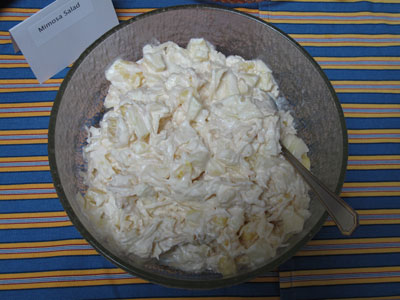 Mimosa Salad
Mimosa Salad is a salad that also comes with some variations. To this recipe you could add chopped up orange sections, grapes, and some peas.
---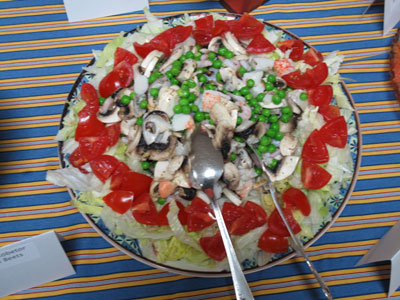 West Coast Salad (Västkustsallad)
West Coast Salad is a refreshing salad among many "heavier" dishes on the Smörgåsbord.
---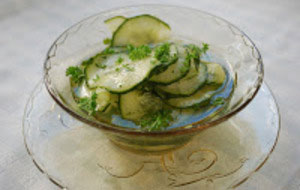 Old-Fashioned Pickled Cucumbers (Gammaldags Pressgurka)
These freshly Pickled Cucumbers are easy to make, and a good side-dish to many meat-based dishes.
---
Cold Cuts (Kall Skuret)
The plate is a "no-brainer", where you put together a variety of deli-items which hae been "cooked" by somebody else.
---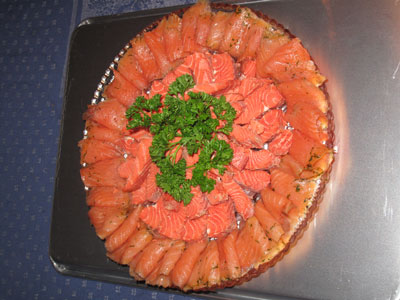 Cured Salmon (Gravad Lax)
Before preparing this dish, the salmon should be stored in the freezer for a few days to kill any bacteria, and then thawed in the fridge.
---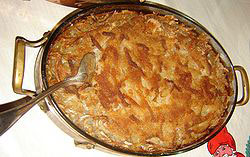 Jansson's Temptation (Jansson's Frestelse)
The anchovies used will melt into the dish and flavor it wonderfully. A must-have dish in on the Smörgåsbord.
---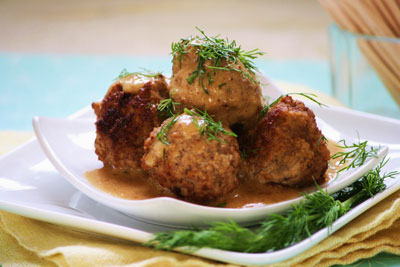 Meatballs (Köttbullar)
Everyone loves this recipe. It comes from a Swedish Food Magazine (Allt om Mat) from 1979, and has been my only meatball recipe since then.
---
Quick Links